Welcome to the premiere installment of "comic book moment of the week" I'm going to take look at some of the comics that are coming out from the big Three publishers and just highlights some of the moments from these books to give those of you who are out of the comic loop a glimpse into the world of your favorite character.
We're going to file this weeks entry under "writer is either painting himself into a corner or he's going to open a can of clones" with this weeks moment,
AMAZING SPIDER-MAN # 635 - THE GRIM HUNT part 2
writer : Joe Kelly - Artists: Michael Lark & Stephano Gaudino
A follow up to the
KRAVEN'S LAST HUNT
story from the 80's where Kraven drugs spidey up, buries him and then proceeds to become the "Spider" by wearing his "skin". Parker finally wakes up, finds Kraven, beats the living snot out of him and then Kraven sends a letter to the NYPD confessing to all sorts of wrong doing and shoots himself with an rifle and dies.
Several years later, Kravens wife and his Two kids along with the Sinister Six all get together to pay Spiderman a little payback.
Don't worry folks, it's just a flesh wound.....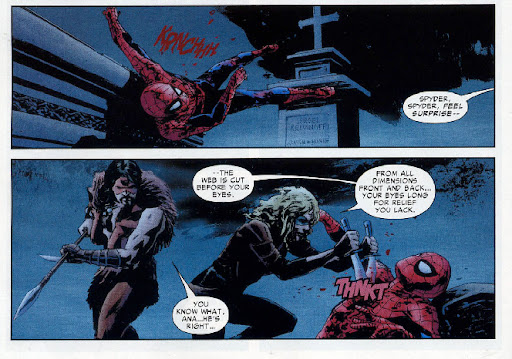 .....sweet Jesus! what kind of sick spider snuff book is this?!?
From
I know that next issue they'll bullshit their way out of this one, but until then they've go my attention.